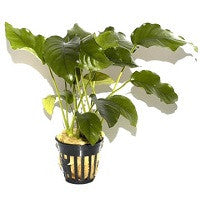 TROPICA- Anubias barteri var. barteri
We currently have 3 in stock.
---
---
Anubias barteri var. barteri from West Africa is an undemanding plant. It grows somewhat larger than Anubias barteri var. nana but is grown in the same conditions. From 25-45 cm tall and a creeping rhizome from 10-15 cm or more. Anubias barteri varies considerably in terms of size and leaf shape. Like other Anubias-species, it is best planted in a shady spot to restrict algae growth on the leaves. It is also suitable for terrariums and paludariums. Herbivorous fish do not eat the very tough and robust leaves. 
---
Questions & Answers
Have a Question?
Be the first to ask a question about this.
Ask a Question